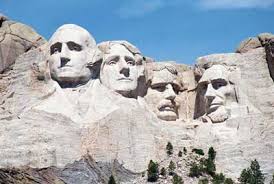 Source: http://www.rapidcityjournal.com/articles/2009/05/23/news/local/doc4a1702bb8841b911374516.txt
Officials at Mount Rushmore National Memorial have added new tools in the constant effort to preserve the national icon.
While crews traditionally use silicone sealant, fracture-mapping techniques and other technology to preserve the faces, they have added laser scanning and digital mapping to tools use to keep the 68 year old in good condition.
Duane Bubac, director of cultural resources and facilities at Mount Rushmore National Memorial, said the mapping project will give the National Park Service detailed information about the features of Mount Rushmore. And the data could later be used to create virtual, up-close tours of Mount Rushmore.
In the past, maintenance was mostly a once-a-year event. Each fall, rope-access crews descended from the top of the memorial to inspect the granite and caulk the surface cracks. The fall maintenance work still takes place every September, Bubac said, but it's now part of a much larger, year-around effort to monitor and preserve Mount Rushmore National Memorial.
"The process involves a lot more than sealing cracks now," Bubac said.
Under the National Park Service long-range preservation plan, crews are fracture-mapping and crack-mapping the granite surface. They are also removing vegetation, cleaning and sealing cracks, removing hazard rocks and testing the next generation of sealant materials.
Mount Rushmore's biggest threat is water. It seeps into cracks, freezes and expands. That freeze-thaw cycle could eventually degrade the surface of the granite. Dirt and vegetation could also be a threat. If dirt can accumulate in a small hollow, it gives opportunist weeds, bushes or trees the foothold they need to take root.
https://scanable.com/wp-content/uploads/2020/06/SCANable_New_Web_v3.png
0
0
Travis Reinke
https://scanable.com/wp-content/uploads/2020/06/SCANable_New_Web_v3.png
Travis Reinke
2009-06-02 10:46:32
2009-06-02 10:46:32
Mount Rushmore to add laser scans, digital mapping in preservation efforts