IBM Visualizes a "Smarter Planet" using 3D Laser Scanning Technology [LiDAR]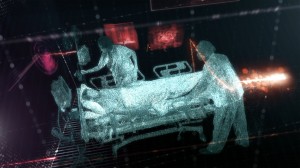 HOUSTON, TX March 18, 2010 Coign Asset Metrics & Technologies (CoignAMT), at the direction of Zoo Film Productions of Hollywood, CA, has helped produce IBM's first globally released television commercial created entirely from Light Detection and Ranging (LiDAR) 3D point cloud data.
CoignAMT used the HDS6100 phase-based laser scanner from Leica Geosystems to create scenes of cars on a freeway, patients in a hospital, electricity grids and much more. The 30-second LiDAR-based commercial is a key part of IBM's Smarter Planet initiative to portray that data is all around; and that by changing the way the world thinks, companies can maximize the use of data to lower their costs and reduce environmental impact.
Travis Reinke, business sector manager for CoignAMT, says, "Coincidentally, IBM's perspective is a core part of CoignAMT's business practice. We help our clients see the long-term value of the data they currently have by using the latest technology, such as 3D laser scanning, to quickly gather an immense amount of data to support their existing "intelligent" systems."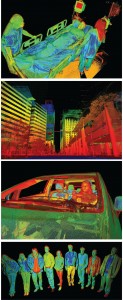 The Zoo Film Productions crew spent a week in Houston, TX with CoignAMT personnel capturing laser scan data of transmission lines and over 16 blocks of downtown Houston streetscape and surounding buildings. CoignAMT then merged the point cloud data gathered in downtown with 6 square miles of low-altitude helicopter-based LiDAR provided by Aerotec LLC out of Birmingham, AL. Zoo Film Productions crews also created numerous scenes of hospital activities as well as automobiles with and without drivers that CoignAMT scanned individually for use in the commercial.
Reinke continues, "We were honored to be part of this innovative project given the direct correlation between the services CoignAMT provides and IBM's Smarter Planet initiatives. Using the latest laser scanning technology to visually portray the importance of the data surrounding us was an unforeseen irony. I would never have imagined that we would be using this technology to scan people and cars, objects that are often considered 'noise' on a typical inventory project."
View IBM "Data Anthem" at 848×480: http://www.glossyinc.com/zoo/ibmdataanthem.html
Full credits and a selection of stills: http://www.glossyinc.com/ibmdacred.html
Follow CoignAMT on Twitter: http://www.twitter.com/CoignAMT
Follow Travis Reinke on Twitter: http://www.twitter.com/HDLS
YouTube: http://www.youtube.com/watch?v=3cj6VtYpBI4
# # #
About Coign Asset Metrics & Technologies LLC:
Coign Asset Metrics & Technologies, LLC (CoignAMT) is a HUBZone qualified, SBA certified, small business that provides a full range of asset management life cycle services and specialized technologies, including high definition laser scanning (HDLS). Its mission is to strengthen public and private sector organizations by aligning their assets and operational practices with their strategic initiatives. CoignAMT is headquartered in the Pittsburgh, PA area, with regional offices located in Colorado Springs, CO, and Houston, TX. Clients include federal, state, and local governments, as well as private sector customers in the construction, energy, transportation, manufacturing, and security industries.
https://scanable.com/wp-content/uploads/2010/03/IBM_Data_Anthem_02_web1-e1269575231374.jpg
539
958
Travis Reinke
https://scanable.com/wp-content/uploads/2022/08/SCANable_logo-340.png
Travis Reinke
2010-03-18 10:58:40
2010-03-18 10:58:40
IBM Visualizes a "Smarter Planet" using 3D Laser Scanning Technology [LiDAR]