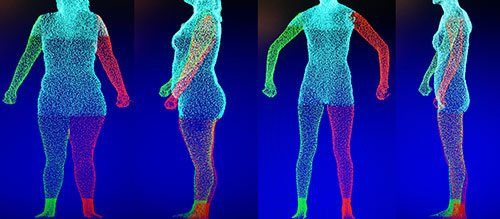 [TC]2 Announces Availability of Its Most Advanced 3D/4D Body Scanner
New TC2-19 Offers Fastest and Most Accurate Measurements on the Market [source]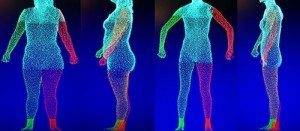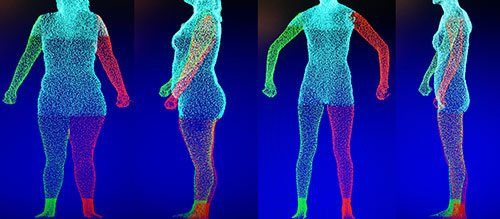 Cary, NC – April 30, 2015 – [TC]², the innovation leader for the fashion industry and 3D body scanning technology, announces general availability of the TC2-19, the most advanced 3D/4D body scanning and measurement technology available on the market.
The TC2-19 provides the option of using a touch screen inside the scanner booth which allows users to "self-scan" by following on-screen instructions. The "self-scan mode" is ideal for use with the iStyling™ Full Retail Solution that provides for greater fit accuracy, styling advice, and garment customization. The body scanner interfaces with multiple CAD technologies and avatar engines.
While capturing the accurate body measurements that [TC]² 3D body scanners are well-known for today, the TC2-19 offers a "quick scan" option (2 seconds), 360° 3D body scanning and rapid processing speeds (17 seconds). The newly developed 4D mode enables 3D movement visualization inside the scanner.
"The combination of speed, accuracy, and stability enabled by software and hardware advancements make this the most advanced 3D/4D body scanner ever built", said Dr. Mike Fralix, CEO of [TC]². "We are excited that our existing retail customers and major brands now have a scalable solution that can easily and cost effectively roll out to multiple locations."
The [TC]² body scanner captures thousands of body measurements used by the fashion, medical, and fitness industries to make custom garments, predict customer sizing, benchmark fitness goals, and augment surgical processes. The scanner fits in a space the size of the average retail dressing room and features a booth for privacy. The TC2-19 comes with a lifetime scanner software license and PC.
The TC2-19 can be viewed at the [TC]² National Apparel Technology Center in Cary, N.C.
About [TC]²:
[TC]², Textile / Clothing and Technology Corporation, is a leader in innovation and dedicated to the advancement of the fashion and sewn products industry. Its research, consulting services, and products help brands, retailers, and manufacturers provide increased value for their customers while improving their bottom line. [TC]²'s mission focuses on the development, promotion and implementation of new technologies and ideas that significantly impact the industry.
https://scanable.com/wp-content/uploads/2015/05/TC2-Announces-Availability-of-Its-Most-Advanced-3D-4D-Body-Scanner.jpg
219
500
Travis Reinke
https://scanable.com/wp-content/uploads/2022/08/SCANable_logo-340.png
Travis Reinke
2015-05-22 16:11:32
2015-05-22 16:12:57
[TC]2 Announces Availability of Its Most Advanced 3D/4D Body Scanner