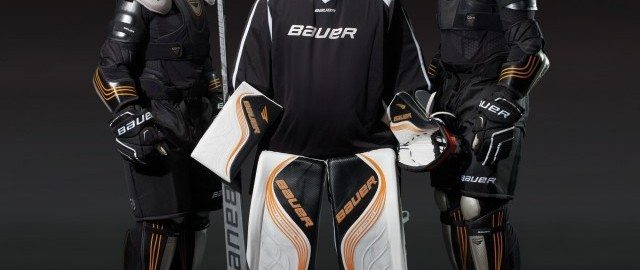 Olympic athletes will wear state-of-the-art, 3D-scanned, custom-fitted uniforms
[Source: Mashable]
As if we needed another reason to worship athletes, select Olympic hockey players will wear state-of-the-art, 3D-scanned uniforms custom-fitted to their body parts. That's right, like superheroes.
Hockey equipment manufacturer Bauer officially unveiled the new line of high-tech hockey equipment, called "OD1N," in December. CEO Kevin Davis has touted the gear as the "concept car" of hockey equipment. Pouring a cool million dollars into outfitting six elite hockey players, Bauer used a tech-friendly combination of composite materials, compression-molded foam and 3D optical scanning to personalize the equipment, while lightening the skates, protective gear and goalie pads by one-third.
Hockey enthusiasts will see the line in action on the ice when it debuts at the Sochi Winter Games in February. The equipment will be worn by the NHL's Jonathan Toews (Chicago Blackhawks/Team Canada), Patrick Kane (Chicago Blackhawks/Team USA), Nicklas Backstrom (Washington Capitals/Team Sweden) and goaltender Henrik Lundqvist (New York Rangers/Team Sweden). Claude Giroux (Philadelphia Flyers/Team Canada) and Alex Ovechkin (Washington Capitals/Team Russia) round out the group of six players who worked with Bauer to test the equipment.
Lundqvist has been practicing and playing with the Od1n goal pads since November, while Toews, Kane and Backstrom are sporting elements of the protective body suit.
The equipment's weight reduction should provide a significant on-ice advantage. The skates alone, with their lighter, carbon-composite blade holders, amount to roughly 1,000 fewer pounds of lifted weight during a regulation game, according to Bauer. Lundqvist will lift 180 fewer pounds with the Od1n goalie pads, which replace traditional layers of synthetic leather with compression-molded foam that can be modified depending on the goaltender's style of play.
"The benefit is not only in the quickness to the puck but in their ultimate endurance and stamina going into the third period,"
"The benefit is not only in the quickness to the puck but in their ultimate endurance and stamina going into the third period," says Craig Desjardins, Bauer's general manager of player equipment and project leader for Od1n. "For [Lundqvist], that was the difference between getting a block or getting scored on."
Like many a concept car, Bauer also drew on new technologies via its designs. Using 3D optical scanning borrowed from the automotive industry, it manufactured protective base-layer suits molded to each player's physique. The scans generated computerized models, from which Bauer designed custom equipment.
"Being able to customize, for example, a shin guard or elbow pad based on the individual geometry of a player, we've taken the guesswork out completely," says Desjardins. "It's going to better protect you if it stays in place."
It's all very spiffy, but in automotive terms, a concept car showcases radical new developments in technology and design that make it prohibitively expensive for consumers. The cars don't often make it to mass production. The cost of Bauer's own "concept car" design, with its attendant technological advancements, places the equipment well out of reach of all but the most elite hockey players.
Much like BMW's shape-shifting sedan, the idea is to ogle Od1n, not to own it — although, Bauer will likely outfit a few more NHL bodies in the future.
Its creators are optimistic that certain elements will make their way to mass production, however.
"We're trying to invent the future of hockey equipment, to show the industry and consumers where it could go, where it will go," says Desjardins. "In the next few years, we'll be able to take that technology down into multiple price points."
So if, a few years from Sochi, your neighborhood is teeming with hockey prodigies, you'll know why.
https://scanable.com/wp-content/uploads/2014/02/bauer-equipment-640x576.jpg
576
640
Travis Reinke
https://scanable.com/wp-content/uploads/2022/08/SCANable_logo-340.png
Travis Reinke
2014-02-03 05:22:22
2014-02-03 05:22:22
Olympic athletes will wear state-of-the-art, 3D-scanned, custom-fitted uniforms