Artec Announces the World's First 3D Full Body Scanner – Shapify Booth
A twelve second body scan and shoppers pick up their 3D printed figurine next time they visit the supermarket
P-3D SELFIE_ITV2000_Vimeo from Granada Reports on Vimeo.
This week Asda and Artec Group are happy to announce their partnership as Asda becomes the first supermarket to bring a new cutting edge 3D printing technology to shoppers in the UK with the installation of Artec Shapify Booth — the world's first high speed 3D full body scanner in its Trafford Park store. The scanning booth will allow thousands of customers to create a 3D miniature replica of themselves.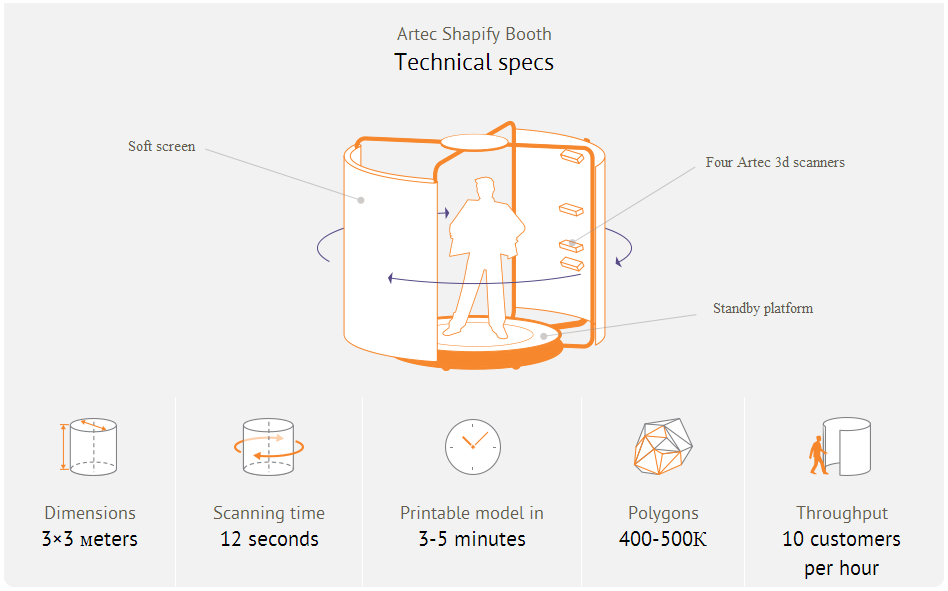 The Artec scanning booth, equipped with wide-view, high-resolution 3D scanners and a rotation rig, takes just 12 seconds to scan a person. The Artec algorithms automatically fuse 700 captured surfaces into a detailed printable file. This digital model is then sent to the Asda 3D printing centre to be made into an 8″ mini-statue in full colour which can be collected from the store just one week later. Asda's unique 3D printing technologies allows the processing of a huge volume of high quality figurines at a time, while the prints costs just £60.
Asda first introduced 3D scanning and 3D printing customer's figurines six months ago, using Artec handheld scanners. Driven by the immediate success of the venture and Asda's vision to offer 3D technology to the public, Artec Group tailored its professional scanning equipment to spec and created the Shapify Booth, a high speed full body scanner that Asda is now making available to all.
Making 3D prints of all the family, customers can also come along to be scanned in their sports kit, wedding outfits, graduation robes or fancy dress, taking something totally new and personalised back home with them after their weekly shop.
If the trial of the Shapify technology at Trafford Park is successful the new booths will be rolled out to more stores in the Autumn.
Phil Stout, Asda Innovation Manager – Asda is fast becoming, not just a retailer but, a technology company and this innovation is another example of how we're leading the way on in store consumer facing technology. We've been working with Artec technology for a while now and we're delighted to be the first company in the world able to offer our customers this unique service.
Artyom Yukhin, Artec Group President and CEO – Over the last 5 years Artec has been providing 3D technologies to professionals in industries from space and automotive to medical and movie special effects, but we have always been looking for the chance to do something for the public. Asda's backing and second to none customer understanding allowed us to create high speed scanners which are fun and easy for people to use.
About Asda Stores Ltd.
Founded in the 1960s in Yorkshire, Asda is one of Britain's leading retailers. It has more than 180,000 dedicated Asda colleagues serving customers from 551 stores, including 32 Supercentres, 311 Superstores, 29 Asda Living stores, 179 Supermarkets, 25 depots and seven recycling centres across the UK. Its main office is in Leeds, Yorkshire and its George clothing division is in Lutterworth, Leicestershire. More than 18 million people shop at Asda stores every week and 98 per cent of UK homes are served by www.asda.com. Asda joined Walmart, the world's number one retailer, in 1999.
About Artec Group
Artec Group is a manufacturer and developer of professional 3D hardware and software, headquartered in Luxembourg. Artec Group is a global market leader in 3D scanning solutions used by thousands of people all over the world.
Shapify, the technology for creating 3D printed figurines, was conceived and launched by Artec Group in 2013:www.shapify.me
For more information about Artec Group, visit www.artec-group.com.
Contacts:
Artec Group : press@artec-group.com
https://scanable.com/wp-content/uploads/2014/06/Shapify-Booth-Full-Body-3D-Scanner.jpg
450
940
Travis Reinke
https://scanable.com/wp-content/uploads/2023/03/SCANable_Web_Header.webp
Travis Reinke
2014-06-24 14:56:19
2014-06-24 14:58:28
Artec Announces the World's First 3D Full Body Scanner – Shapify Booth