Pittsburgh, PA (PRWEB) October 30, 2009 — Coign Asset Metrics & Technologies (CoignAMT.com) announced today that it was selected for a five-year, $30 million, Indefinite Delivery Indefinite Quantity (IDIQ) contract awarded by the U.S. General Services Administration (GSA) Public Buildings Service (PBS). For this nationwide contract CoignAMT, as prime, and its partners will provide professional laser scanning and Building Information Modeling (BIM) services to each of the eleven GSA regions.
"We are very excited to be part of this monumental opportunity,"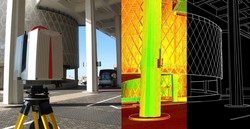 CoignAMT is recognized for excellence with 3D Laser Scanning and Building Information Models
"We are very excited to be part of this monumental opportunity," said Travis Reinke, Asset Inventories Sector Manager for CoignAMT. "Our team is comprised of some of the most talented individuals in the laser scanning and building information modeling industries and we look forward to sharing our experiences utilizing the latest technologies and software to assist the GSA PBS in effectively managing their facilities for years to come. Having been involved in the laser scanning industry since the very beginning, it is exciting to not only see the rapid progression of the technology itself, but also the acceptance of its benefits in the architectural and federal community."
This contract will support the new construction, renovation, and modernization initiatives of the GSA's PBS central office and its eleven regional offices. Sites will likely involve federal offices, courthouses, border stations, laboratories, warehouse, and childcare facilities, among other types of real property. Services being provided by CoignAMT under this $6 million base year contract with four one-year options will include:
Documentation of facility interior and exterior conditions and systems utilizing 3D laser scanning
Transformation of point cloud datasets into BIM
BIM that encompass the facility life cycle (planning, design, construction, operations, maintenance, rehabilitation, and divestiture)
Subject Matter Expert support for architectural design; mechanical, electrical, and plumbing (MEP); and structural and civil engineering
Visual, geospatial and engineering analysis
Development of Best Practices relating to laser scanning, building information modeling and facility management
Business processes improvement through comprehensive facility life cycle management and expanded use of technology
CoignAMT President, Gary Sheets, stated, "Throughout the federal government and private sector, GSA Public Buildings Services is regarded as a leader in maximizing facility efficiencies through the application of advanced technologies. We are honored that GSA PBS has recognized our technical expertise, depth of experience and innovative solutions with this selection and look forward to supporting the GSA PBS with its laser scanning, BIM, and facility life cycle management initiatives nationwide."
About the GSA PBS and the National 3D-4D-BIM Program: The landlord for the civilian federal government, GSA Public Buildings Service (PBS) acquires space on behalf of the federal government through new construction and leasing, and acts as a caretaker for federal properties across the country. PBS owns or leases 8,600 properties, maintains an inventory of more than 354 million square feet of workspace for 1.1 million federal employees, and preserves more than 480 historic properties.
In 2003 the General Services Administration (GSA), through its Public Buildings Service (PBS) Office of Chief Architect (OCA), established the National 3D-4D-BIM Program. OCA has led over 30 projects in its capital program, and is assessing and supporting three dimensional (3D), four-dimensional (4D), and Building Information Modeling (BIM) applications in over 35 ongoing projects across the nation. The power of visualization, coordination, simulation, and optimization from 3D, 4D, and BIM computer technologies allow GSA to more effectively meet customer, design, construction, and program requirements. GSA is committed to a strategic and incremental adoption of 3D, 4D, and BIM.

About Coign Asset Metrics & Technologies LLC: Coign Asset Metrics & Technologies, LLC (CoignAMT) is a HUBZone qualified, SBA certified, small business that provides a full range of asset management life cycle services and specialized technologies, including high definition laser scanning (HDLS). Its mission is to strengthen public and private sector organizations by aligning their assets and operational practices with their strategic initiatives. CoignAMT is headquartered in the Pittsburgh, PA area, with regional offices located in Colorado Springs, CO, and Houston, TX. Clients include federal, state, and local governments, as well as private sector customers in the construction, energy, transportation, manufacturing, and security industries.
For more information, contact:
Travis Reinke, Asset Inventories Sector Manager
Phone: 888.600.5849 ext 3
www.CoignAMT.com
https://scanable.com/wp-content/uploads/2010/03/gI_0_hdstomodel.jpg
129
250
Travis Reinke
https://scanable.com/wp-content/uploads/2023/03/SCANable_Web_Header.webp
Travis Reinke
2009-10-30 09:19:43
2009-10-30 09:19:43
Coign Asset Metrics & Technologies Awarded GSA Nationwide Laser Scanning Contract