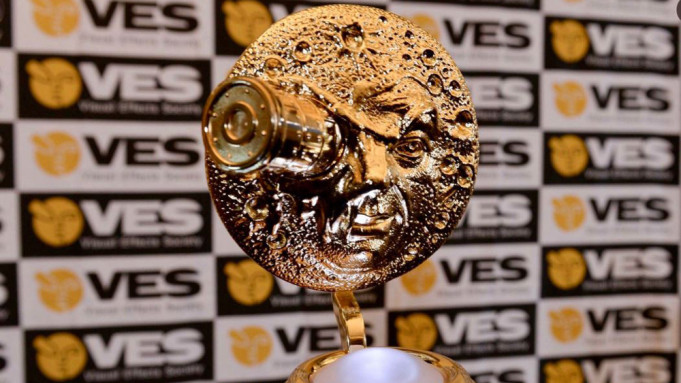 VES Awards: 'The Lion King' & 'The Irishman' Take Top Film Honors
VES Awards: 'The Lion King' & 'The Irishman' Take Top Film Honors
Disney's The Lion King ruled the 18th annual VES Awards, winning a pack-leading three trophies including the marquee Outstanding Visual Effects in a Photoreal Feature during Wednesday night's ceremony at the Beverly Hilton.
The Jon Favreau-directed "live action" remake of the toon classic also took the hardware for Outstanding Created Environment in a Photoreal Feature and Virtual Cinematography in a CG Project, setting it up as a front-runner for the Best Visual Effects Academy Award on February 9. More on that below.
Accepting the top prize for The Lion King, visual effects supervisor Robert Legato said: "I do feel a little guilty because the fellow nominees were so great … but I'm pretty sure I'm going to get over it. … About 1,600 of our closest personal friends were involved."
Netflix's The Irishman and Laika's Missing Link were the only other multiple winners on the film side. The time-jumping, de-aging film by Martin Scorsese, who received the VES Lifetime Achievement Award tonight, took Outstanding Supporting Visual Effects in a Photoreal Feature and a compositing award. The stop-motion Missing Link won for Visual Effects in an Animated Feature and Animated Character in an Animated Feature.
Also picking up a pair of trophies tonight were Disney+'s rookie series The Mandalorian, HBO's recently wrapped  Game of Thrones, Netflix's creepshow Stranger Things 3 and the Ridley Scott-helmed commercial "Hennessy: The Seven Worlds."
The Star Wars universe was well represented Wednesday night. Along with the dual Mandalorian wins, The Last Skywalker took Effects Simulations in a Photoreal Feature and Star Wars: Rise of the Resistance scored Visual Effects in a Special Venue Project.
Back to The Lion King and its Oscar chances. Since the VES Awards launched in 2002, the winner of its top film category has gone on to score the Best Visual Effects Oscar in 10 of the 17 years. (Hugo won the VES in the Feature Motion Picture category in 2011 and later won the Oscar.) But don't shine up that mantel just yet: The Visual Effects Society and the Movie Academy have differed in each of the past two years, with 2017 VES winner War for the Planet of the Apes losing the Oscar to Blade Runner 2049 in 2017 and Avengers: Infinity War getting Thanos-ed by First Man at last year's Academy Awards.
The Lion King and The Irishman will vie for the Visual Effects Oscar on February 9 against VES Awards nominees Avengers: Endgame, Star Wars: The Rise of Skywalker and 1917.
Host Patton Oswalt kicked off the ceremony with a few zingers: "Good evening. Disney permalancers!" he said. He later picked a Cats fight, noting: "The Star Wars franchise ended after 50 years, and after one screening, so did the Cats franchise. Isn't that amazing? Were you guys on strike when they made that one? What was going on there? That movie was a screensaver designed to not give me a boner."
J.J. Abrams later got a big laugh with this line, after Rian Johnson has presented earlier: "I'm here tonight to present three awards — unless Rian Johnson wants to come back and present the second one."
Scorsese was unable to attend the ceremony but accepted his Lifetime Achievement Award via video. "I'm really very sorry that I can't be there in person," he said. "Thank you for this honor, which is very special to me because my pictures — they're just not known for their visual effects. … I'm sort of a latecomer. I think I did my first visual effects from a wheelchair."
The Oscar winner added: "Out of silence came the idea of the de-aging to utilize in the making of The Irishman. We all realized the risk we were taking, and we knew it was the only way we could make the picture we wanted to make."
Roland Emmerich, who VFX-heavy films include Stargate, Independence Day, The Day After Tomorrow, 2012 and last year's Midway, picked up the VES Visionary Award on Wednesday.
"People ask me a lot, 'Why do you make all these huge visual effects movies?' and I have to say the stories that fascinate me most are stories where people face extraordinary obstacles," he said onstage. "I really enjoy to put a character in crazy possible danger and then watch them overcome these insurmountable obstacles. … Working in this business for 40 years, I know that if you want to get great visual effects, you need a lot of people — sometimes hundreds, sometimes thousands."
Visual effects supervisor Sheena Duggal, whose dozens of credits range from Jumanji and Contact to Iron Man 3 and Venom, accepted the VES Award for Creative Excellence. "One of the things I love about my job is in this industry we truly succeed if we succeed together," she said.
To see the list of VES Awards 2020 Winners click here.
https://scanable.com/wp-content/uploads/2020/01/ves-awards-trophy-featured.jpg
383
681
Ty Taylor
https://scanable.com/wp-content/uploads/2023/03/SCANable_Web_Header.webp
Ty Taylor
2020-01-31 17:47:27
2020-02-04 18:03:00
VES Awards: 'The Lion King' & 'The Irishman' Take Top Film Honors